Indonesian President Joko Widodo Attended the Indonesia-China Business Forum, Professor Xu Kaihua, Board Chairman of GEM, Was Invited to Participate
Publish Date:2023-10-18
Hits:307
On October 16, 2023, the Indonesia-China Business Forum was held in the capital city of China, Beijing. Representatives from the business communities of China and Indonesia gathered together to discuss new opportunities for practical economic and trade cooperation between the two countries. Indonesian President Joko Widodo, Vice Chairman of the National Committee of the Chinese People's Political Consultative Conference and Chairman of the All-China Federation of Industry and Commerce Gao Yunlong, and other leaders from China and Indonesia were present at the event. Professor Xu Kaihua, Board Chairman of GEM, was invited to attend this forum as one of the representatives of entrepreneurs from China and Indonesia.
Chairman Gao Yunlong pointed out that this year marks the 10th anniversary of the establishment of Indonesia-China comprehensive strategic partnership, as well as the 10th anniversary of President Xi's proposal of "21st Century Maritime Silk Road" initiative in Indonesia. Gao stressed that the business community is the backbone of practical cooperation between the two countries. He expressed the hope that entrepreneurs from both countries can work together in good faith, explore more fields of cooperation, create more business opportunities, and achieve more fruitful cooperation results, thus making greater contributions to the deepening of Indonesia-China economic and trade relations.
President Joko Widodo pointed out that cooperation between Indonesia and China is a mutually beneficial partnership. He noted that since 2013, China's ranking in Foreign Direct Investment (FDI) in Indonesia has jumped from 12th to 2nd place. He believes that China's FDI ranking in Indonesia will continue to rise in the next year or two. Indonesia plans to build an electric vehicle ecosystem and become an important part of the global supply chain, requiring high technical expertise and investment, especially in combination with Indonesia's abundant green energy advantages, producing green products, and creating a green economic ecosystem. President Joko Widodo emphasized that Indonesia will provide incentives for potential investors and encourage entrepreneurs, including those from China, to accelerate their investment in Indonesia.
At the forum, President Joko Widodo warmly shook hands with Professor Xu Kaihua, Board Chairman of GEM. This is the third time that Chairman Xu has been formally received by President Widodo, following the G20 Bali Summit in 2022 and the Chengdu Summer World University Games in 2023.
In Indonesia, GEM has built a high-tech nickel resource industrial park with the concept of "Technology + Intelligence + Green". GEM has constructed the world's first-class laterite nickel ore HPAL and new energy materials technology research center, established Indonesia's first world-class nickel museum, successfully launched two GEM-CMMAI-CSU joint metallurgical engineering master programs, and is currently conducting the third and fourth phases. GEM has also released three "thousand" metallurgical engineering and new energy material technology talent development plans, speeding up the process of talent development and localization in Indonesia, and constantly promoting new levels of scientific and cultural exchange between China and Indonesia.
Moving forward, GEM will continue to adhere to the development concept of "integrating industry, technology, and culture investment and grow together with Indonesia". GEM will invest in and build a full industry chain of nickel resources and new energy materials, as well as a waste recycling and circular economy industrial park. We will also foster local Indonesian talent in the fields of metallurgy and new energy, work together with local Indonesian metallurgical and new energy companies to create a brighter future, and provide green technology services to support the sustainable development of the Indonesian economy and society. We hope to contribute to the "Belt and Road" initiative and write a more brilliant green future.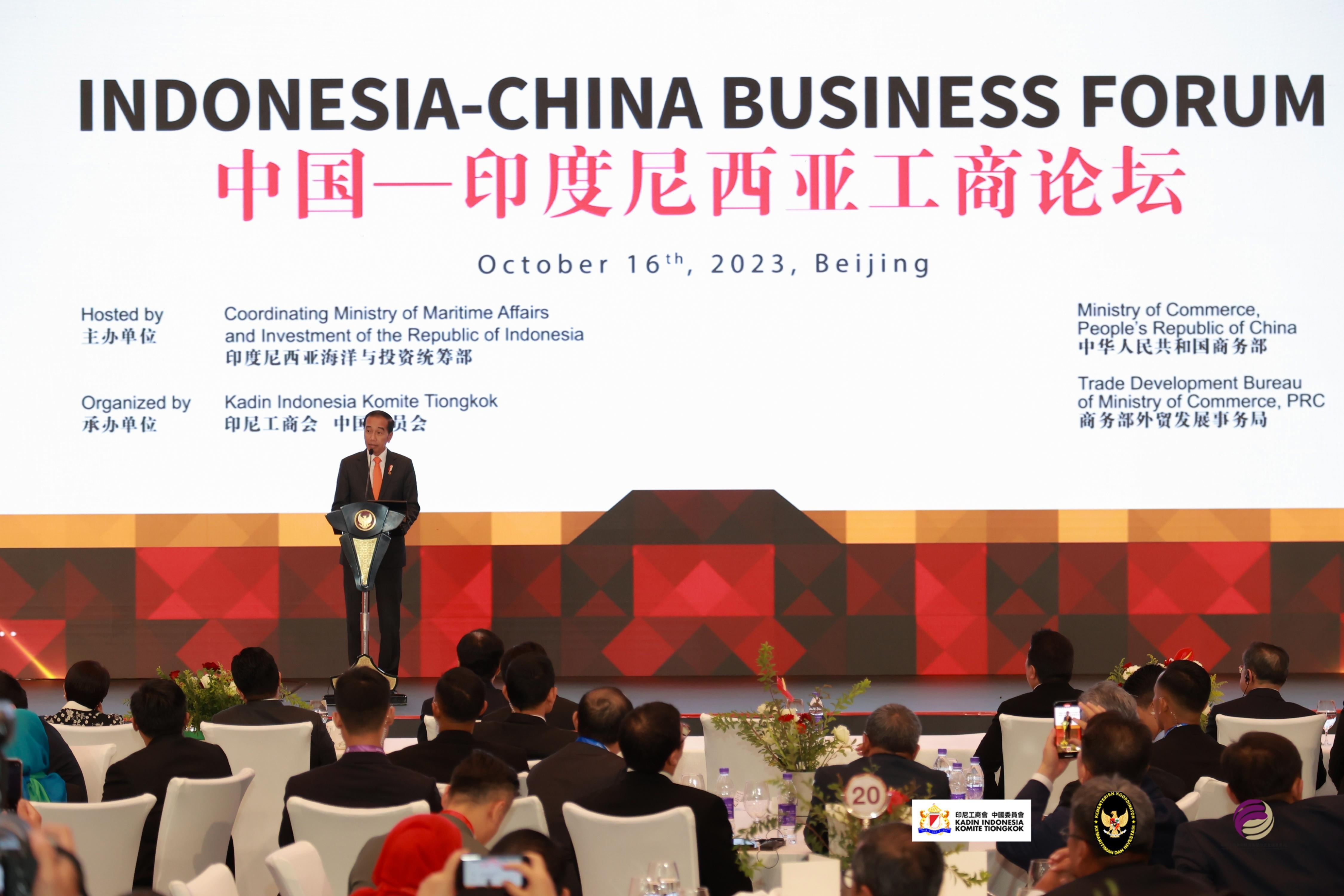 President Joko Widodo delivered a speech at the Indonesia-China Business Forum
President Joko Widodo took a photo with Professor Xu Kaihua, Board Chairman of GEM, and other entrepreneurs
President Joko Widodo shook hands with Professor Xu Kaihua, Board Chairman of GEM